First We Eat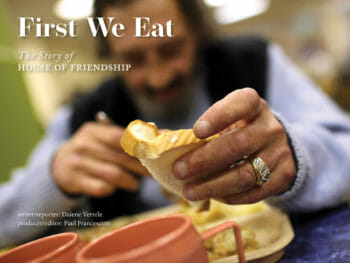 (45 minute audio documentary)
This documentary focuses on the importance of food and diet for the well-being of the homeless and those with mental illness or addictions, centering on House of Friendship and the work that's being done with the men who reside there.
Listeners are allowed access into the lives of the residents and hear their stories told by themselves… and the front-line workers who try to help these men find their way back to society.
Food is the thread and Sandra Wall, kitchen coordinator for 35 years, is the person listeners will come to respect as the voice of compassion and empathy.
80+ years ago House of Friendship was founded on the premise that a hot, nutritious meal can help in the road to recovery.
Writer/Reporter: Daiene Vernile 
Producer/Editor – Paul Francescutti