MEDIA RELEASE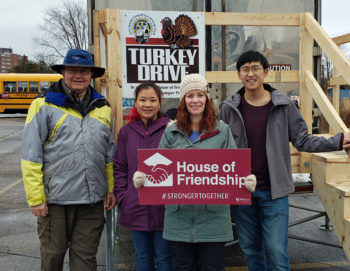 For the past 19 years, the Kitchener-Conestoga Rotary Club has worked together to raise more than $4 million as part of its annual Rotary Turkey Drive, ensuring that every family can enjoy a special holiday meal through House of Friendship's Christmas Hamper program.
This year, the need is greater than ever before, with a record-breaking 5,600 households signing up to receive extra support this holiday season – almost a 30% increase over 2020.
"We are seeing first-hand how difficult times are for families in our community," said Mark Walters, chair of this year's Rotary Turkey Drive. "We know that every donation that comes in between now and Christmas is vital to help families in Kitchener-Waterloo get the support they need. We've seen the generosity of Waterloo Region time and time again with their ongoing support of the Rotary Turkey Drive, and we are counting on them to show their generosity again, to ensure no one is left behind this holiday season. Donations are gratefully accepted at www.turkeydrive.ca."
"The COVID-19 pandemic continues to disproportionately affect individuals in our community who are living on low income," said House of Friendship Community Services Director Clare Wagner. "With government supports such as CERB payments drying up, parents who have lost employment or are working in precarious, low-paying jobs have few options when it comes to feeding their families, especially with rising inflation and the ongoing housing crisis."
The Kitchener-Conestoga Rotary Club has a goal of raising $460,000 this holiday season to help support the costs of the Christmas Hamper program. Donations can be made securely online at www.turkeydrive.ca.
House of Friendship's Christmas Hamper program also depends on support from key community partners, including the Food Bank of Waterloo Region, and the St. Vincent de Paul Society.
More than 500 volunteers will be delivering and distributing food and gift cards to recipients at a number of locations throughout Kitchener-Waterloo, from Dec. 8 to Dec. 17.