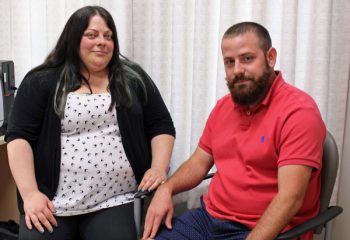 The Rapid Access Addiction Medicine Clinic (RAAM) is a space where individuals of any age can access support for substance use disorders. RAAM is an easy access, walk-in clinic that individuals can access without an appointment or formal referral. RAAM services are covered by OHIP and are available to those who may need to obtain a health care. Services are time-limited, and individuals are transferred back to primary care upon completion of their participation.
Our multidisciplinary team consists of physicians and/or nurse practitioners, addiction counsellors and peer support workers who have lived experience, who are all available to support each person's unique needs. RAAM provides holistic, trauma-informed, evidence-based treatment and interventions for both abstinence and harm reduction needs.
Services offered include: assessment of substance-use concerns; review of treatment options; education and medication support related to withdrawal and cravings; brief individual counselling and peer support; education on overdose prevention and the use of naloxone; referrals to longer-term supports for ongoing care.
House of Friendship runs RAAM clinics in both Kitchener and Cambridge. Please see below for the days, locations and hours that each clinic is open. *Note: First appointments are provided on a walk-in basis. Arriving earlier in the day is recommended due to high patient volume. Clinics are closed on statutory holidays.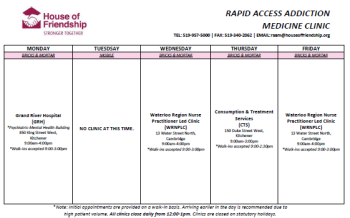 RAAM Schedule – As of October 30th
For more information, call 519-957-5000 or email us at raam@houseoffriendship.org