You can make a difference!
When you raise awareness and funds for House of Friendship, you help build a stronger, healthier Waterloo Region.
Are you having a lemonade stand? Collecting donations at a holiday party? Requesting donations in lieu of gifts for your birthday?
We are honoured by your commitment to help our neighbours in need. Thank you for your creativity, generosity and time to make your fundraiser a success!
Get Started
Take a moment to read through our Community Fundraiser Information to ensure you have all the information you need to get started!
Fill in the Community Fundraiser Form below with details about your event
A Development Team Member will be in touch within 2-3 business days
Community Fundraiser Form
more
Collecting Donations Online
To collect credit card donations online, set up a fundraising page on JustGiving in just a few clicks! Get started here: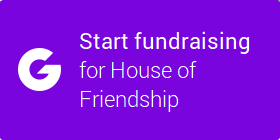 Collecting Cash/ Cheque Donations
Please print and fill in the form below so we can provide tax receipts to your generous donors.  The filled form and donations can be mailed or delivered to: House of Friendship, 51 Charles St. E Kitchener ON. N2G 2P3